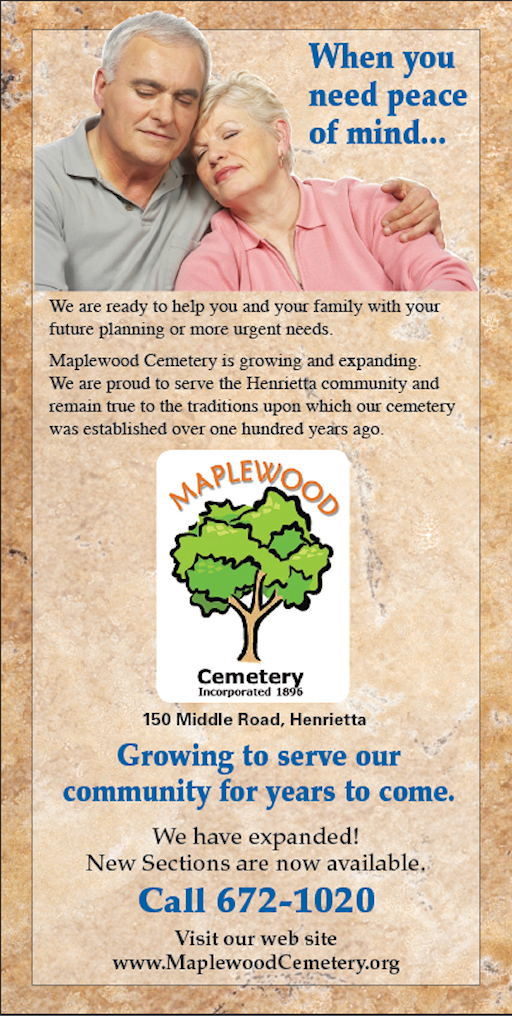 See What Maplewood Cemetery has to Offer.....
Maplewood Cemetery is active and growing to serve the needs of the Henrietta Community.
We are ready to help you and your family with your future planning or more urgent needs.
At Maplewood Cemetery, we take great pride in what we do:
We help families make well-planned preparations in their time of need.
We help families with 'pre-need' planning that can make sure things are taken care of ahead of time. This pre-need planning can reduce the overall stress when the time comes.
Provide a peaceful, attractive, and soothing environment where people can gather to honor the life of loved ones.
Preserve longstanding traditions and customs.
Offer personalized and affordable services and products.
Maintain the attractive appearance of the cemetery with constant care and attention to detail.
We work seamlessly with our area funeral home and monument company partners to make sure you and your familiy have successful results to your needs and expectations.
Maplewood Cemetery is proud of serving the community for over 115 years and is ready to serve for many decades to come.....
Maplewood Cemetery offers a wide variety of lovely settings for both full casket or cremation burials.
Graves are available in our newest sections J & K. (Click on the 'Maps' menu to see these sections)

The Full-Size graves can accomodate:

1 full (casket - vault) burial

or

1 full (casket - vault) burial with 1 or 2 cremation urns

or

2 cremation urns
New in Section J:
Smaller-Size Cremation only graves can accomodate:

1 cremation urn
New lower cost option for single cremation burial graves
We offer single graves, double graves, or family plots.
Please refer to our
Rates and Charges
for the current pricing of our graves and services offered.
Payment plans are available to help with your pre-need planning expenses.