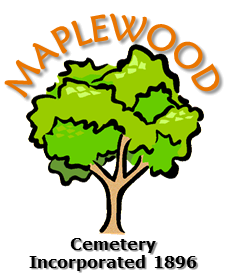 Maplewood Cemetery 2017 Pricing
Maplewood Cemetery Association Rates and Charges
| | |
| --- | --- |
| Lot - Grave Sales: | |
| Full-Size grave : full burial or Cremation burials (3) | $900.00 |
| Reduced-Size grave : 1-Cremation burial only (4) | $500.00 |
| Interments: * | |
| Adult and Child (full size casket/vault) | $700.00 |
| Child - Infant (up to 4 ft. length) | $500.00 |
| Cremated Remains (urn) | $500.00 |
| Additional Fees: ** | |
| Special Grave Maintenance fee (1) | $200.00 |
| Sunday & Holiday Interments | $500.00 |
| Winter Access (Dec.1 – April 1) | $ 50.00 |
| Monument Foundations: | |
| Per square inch (2) | $ 0.87 |
| Minimum Charge | $251.00 |
| | |
| Duplicate - Replacement Deed | $ 10.00 |
| | |

(5)
*The Rates and Charges include the 2001 NY State mandatory charge of $35.00 to our Permanent Maintenance account for interments and a $5 vandalism fee.
** Winter Access: An additional charge may be made for snow removal or penetration of frost based on the additional costs to the cemetery pursuant to Section 1590 (d) of the not-for-profit corporation law.
(1) The Special Grave Maintenance Fee will be charged for exceptions to the concrete vault or concrete liner requirements.
(2) Foundation price updated 5/1/2011
(3) Full-size graves for full-burial with ability to accomodate cremation burials or used for up to 3 cremation burials.

(4) Available in Section J only. Reduced size graves for 1 cremation burial only

(5) Visa, MasterCard, and Discover Card are now accepted for payment in addition to checks and cash.
Please contact us for more information or to purchase graves or services.
Use the 'Contact Us' email address on the menu bar.